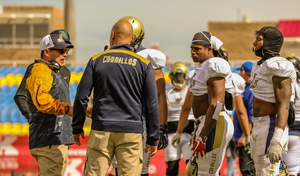 Caudillos of Chihuahua goes with a full team against Chiefs of Ciudad Juárez
--Match time: 2:00 pm Ciudad Juárez; 3:00 pm from Chihuahua capital
With a complete team, the Caudillos de Chihuahua declare themselves ready to begin their activity in the American Football League (LFA), traveling to Ciudad Juárez to face the Chiefs within the first week of the 2023 season.
The match will take place at 2:00 p.m. (HL) / 3:00 p.m. (HC) on Sunday, March 5 at the "November 20 Stadium" in Ciudad Juárez, marking the debut of both teams in the LFA, after their incursion in the defunct FAM League.
Caudillos de Chihuahua reports with a complete roster to start the season in the border city.
With a squad where the base of the team was combined with notable additions, the Head Coach of Caudillos de Chihuahua, Federico Landeros, reports a complete squad and the decision to go get the first win of the campaign.
It is worth mentioning that Week 1 of the LFA begins on Saturday, March 4 with the matches of Reyes de Jalisco vs Gallos Negros de Querétaro, Dinos vs Raptors, while on Sunday Mexicas vs Galgos, Jefes vs Caudillos and the current champions Fundidores will clash. of Monterrey against the CDMX Reds.
Caudillos will have the support of their fans through the dynamics released on social networks, where families from the capital will travel by land to the game in support of the Chihuahua team.
The meeting can be enjoyed through the official social networks of Caudillos de Chihuahua and the cable television channel "LAS".
---