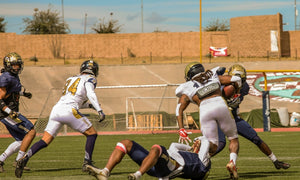 "We work on the physical strength of the team"; Coach Luis Vidales
--For the physical trainer of the Caudillos de Chihuahua, arriving in optimal conditions will be the key to success for the 2023 Season
With the countdown set at 26 days for the start of the 2023 Season of the American Football League (LFA), coach Luis Vidales of the Caudillos de Chihuahua team pointed out that the physical preparation of the squad will be the key to success for the next campaign.
"We have a great commitment, it has been hard work, planning, execution, thanks to the support of the rest of the coaches and players. We have hard sessions, we see methodology, application, everything to stay healthy, it is the main purpose, we want to stay fast, it is one of the virtues that this sport demands and therefore be strong," explained coach Vidales.
He added that, in the same way, work is being done to prevent injuries; "We manage intense physical conditioning logistics, we are working at 70% intensity, with the aim of arriving in optimal physical condition for the season."
He was precise when mentioning that; "I tell you that not everything that tires you trains you, not "more" is better, the intensity must be dosed, a great advantage is that each player has a multidisciplinary team that helps achieve the goals; from nutrition, psychology or physical preparation itself," he concluded.
Caudillos de Chihuahua will visit the Jefes de Ciudad Juárez on Sunday, March 5 at the start of the 2023 LFA Season. While, for week two, the Tijuana Greyhounds will visit the Estadio Olimpico Universitario in a duel scheduled at 7:00 p.m. on Saturday, March 11. Ticket sales available through topticket.mx
---