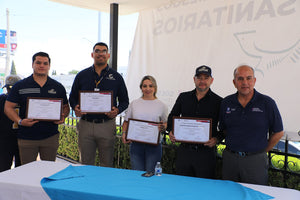 Caudillos of Chihuahua join the COESPRIS "Check the Vape" campaign
Activities within the National Week for Protection against Health Risks
As part of the national campaigns for Protection Against Health Risks that began on April 24, the Caudillos de Chihuahua team was part of the launch of the campaign called "Jaque al Vape", which promotes the risks and repercussions on the health of those who consume them.
The main objective of the aforementioned campaign is to raise awareness among young people about the harmful substances of which they are composed, such as lead-based aerosols among other chemical compounds.
Furthermore, since they are not regulated, there is no exact document of the quantities of chemicals found in the content of vapes and electronic cigarettes and for this reason the circulation and marketing of these products is prohibited.
Due to the above, Caudillos de Chihuahua together with the State Commission against Sanitary Risks (COESPRIS) joins the "Check the Vape" campaign, being part of the main image as a leading sports team in the state of Chihuahua. The players Diego Bedolla, Carlos Mercado and Enrique López serve as ambassadors of the campaign at the national level.
It is worth mentioning that in recent years the FDA gave the name EVALI to the lung injury caused by the use of vaping devices. EVALI manifests itself with symptoms such as: Difficulty breathing, excessive cough, nausea, vomiting, diarrhea, such that they can lead to intensive care, even death.
Caudillos de Chihuahua invites the Chihuahua fans who come to the University Olympic Stadium not to come with cigarettes or vapes, since they will be removed as part of the consumption prevention campaign.
---