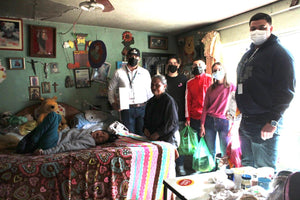 CAUDILLOS PRO FOOTBALL JOINS THE LAW FACULTY'S PANTRY PROGRAM
Caudillos Pro Football in support of the Faculty of Law of the Autonomous University of Chihuahua (UACh), joined the food pantry program that on April 5 will celebrate two years of its creation.
The players Víctor Cruz and José Fernando Salas together with the students Ximena Sanjurjo and André Molina, both in the second year of law, as well as Abraham Hernández in the sixth semester of the faculty of physical education and sports, went to the "Los Arquitos" neighborhood to deliver groceries to Engracia Ticas and her disabled daughter, Marisol, 36 years old.
It is worth mentioning that the pantries are contributions from the teachers and students of the Faculty of Law, with even the students themselves making the deliveries personally to each home.
For its part in commitment to the community, Caudillos Proo Football will continue to promote social actions through sport, through its players and/or through the Foundation.
Caudillos Pro Football is in full preparation for the 2022 campaign, starting this March 1st the training camp that will define the group of 48 players who will defend the colors of their team. 
---