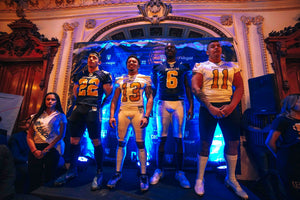 Caudillos de Chihuahua is presented towards the 2023 season
--Roster and uniform were announced at the Chihuahua team event
The Caudillos de Chihuahua team made its official presentation to the media, fans, sponsors and special guests, for what will be its debut in the 2023 season of the American Football League (LFA).
The gala event was held at the facilities of the Quinta Gameros Cultural Center in the city of Chihuahua, capital, which was chaired by: Lic. Evelyn Holguín; president of the Caudillos Foundation, Federico Landeros; Head Coach of Caudillos, Lic. Raúl Lugo; general director of Caudillos, Eng. Juan José Abdo Fierro; director of the Municipal Institute of Physical Culture, Lic. Tania Teporaca Romero Del Hierro; director of the Chihuahuense Sports Institute, as well as the president of Caudillos; Jorge Ginther and the rector of the Autonomous University of Chihuahua, Professor Luis Alfonso Rivera Campos.
During the event, the official roster of the Caudillos de Chihuahua team was presented, in addition to welcoming the animation group "Caudillas Cheers" and the different sponsors for this 2023 season.
"We were working very hard in all areas of opportunity. And I feel that we are, as we say, stronger than ever. That's how I feel about the team, well united, well integrated. "This is what we are looking for, for this to feel like a family and we are going for that final and championship in our home for all our fans." Commented the president of Caudillos, Jorge Ginther.
With this official presentation before the media and fans in general, the Chihuahua team declares itself ready to face its new adventure in the American Football League (LFA).
The Caudillos of Chihuahua will debut next Sunday, March 5, visiting the Chiefs of Ciudad Juárez at 2:00 p.m., local time. Caudillos' first home match of the season will be on March 11, when they host the Mexico City Reds at the Estadio Olimpico Universitario.
---