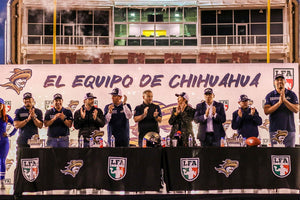 Caudillos de Chihuahua is presented in the American Football League (LFA)
--The Chihuahua capital American football team will participate in the 2023 Season
This Tuesday afternoon, the Caudillos Pro Football team announced its arrival in the American Football League (LFA) for the 2023 Season, as announced by Jorge Ginther, president of the team, and Alejandro Jaimes, Commissioner of the League.
The Juwan team players were present during the announcement.
Manigo and Diego Bedolla who expressed their approval for the continuity of the Caudillos organization in professional American football in the country.
The presentation was attended by head coach Federico Landeros, UACh Sports Coordinator Óscar Erives, representatives of state and municipal sports Teporaca Romero del Hierro and Juan José Abdo Fierro.
In his message, Jaimes assured that the incorporation of Caudillos to the LFA will strengthen the level of competition; "I am very happy to be in Chihuahua and confirm that Caudillos is the tenth team that will be part of next season, American football in the country is united and this is an example."
For his part, Jorge Ginther stated that the organization will work to achieve the title that allows the Chihuahua fans to experience that satisfaction of celebration and joy.
Likewise, the players Manigo and Bedolla reiterated their commitment to making Caudillos a leading team on and off the field of play.
In the coming days, the Caudillos de Chihuahua will present their work plan for the 2023 Season, which will consist of try-outs, preseason, as well as social activities through the Caudillos Foundation.
---