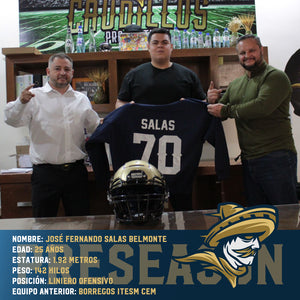 José Salas joins the preseason on the offensive line
"I come to contribute to be champions"
Speed, strength and discipline are the elements that distinguish José Fernando Salas Belmonte, a Borregos ITESM CEM player who is looking for a place in the starting team of Caudillos Pro Football Chihuahua for the 2022 campaign of the Mexican American Football League FAM-YOX .
"I have heard very good things about this team, for me it is a great opportunity in which I will give everything to contribute as much as possible," said Salas Belmonte.
"The objective is clear, from the first contact to be able to reach Caudillos I knew that I am in a group of players where the best in the country is found and we are going to work hard to be champions," he added. 
Caudillos is in full preparation with practices from Monday to Friday afternoons and Saturday mornings at the UACH Olympic Stadium. 
Close up: 
Name: José Fernando Salas Belmonte 
Age: 25 years
Height: 1.92 meters
Weight: 142 kilos 
Position: Offensive Lineman
Previous team: Borregos ITESM CEM
---