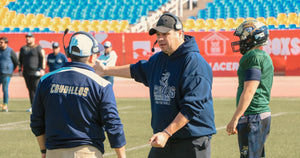 Carlos Altamirano joins Caudillos de Chihuahua
--He will be part of the Caudillos coaching advisory staff
As part of the preparation of Caudillos de Chihuahua for the 2023 season of the American Football League (LFA), Carlos "La Rata" Altamirano joins the structure of the capital team as a coach advisor.
Carlos Humberto Altamirano Chávez, joins the ranks of Caudillos de Chihuahua as an advisor, with the aim of contributing to the already formed coaching staff of the Chihuahua team.
Altamirano Chávez was already part of the first training sessions of the Caudillos de Chihuahua team, where together with the Head Coach, Federico Landeros, they directed the first scrimmage of the year at the University Stadium.
"Returning to Chihuahua is always important for me, being part of a project as solid as Caudillos is very motivating, likewise, my commitment is to contribute everything possible to the team to achieve the only objective, which is the championship. in the LFA," commented Carlos Altamirano.
Caudillos will continue with training and physical tests, where the coaching staff maintains the constant evaluation of players to form the team's final roster.
It should be remembered that Caudillos' first match in the 2023 season will be on March 5 in Ciudad Juárez against the Jefes team, while the home debut will be on Saturday, March 11 when Chihuahua hosts the Galgos de Tijuana.
---