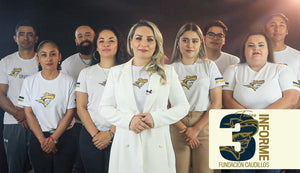 Caudillos Foundation presents its 3rd. Activity report
Development of health, gender violence and sports programs; priority for Caudillos Foundation
Through an institutional video, the president of the Caudillos Foundation Evelyn Holguín, along with the work team. They made the presentation of the 3rd. Activities Report, which mentions the development of violence and crime prevention programs through education, health, victim care, sports, culture and human development.
The joint effort is the strength of Fundación Caudillos, which with the planning, organization, as well as the execution of projects, are the result of the sum of hands, voices and hearts that have contributed to generate change in Chihuahua.
In the "We Are All Team" program, a total of 8,669 people, 3,231 families and 29 institutions have benefited. In the "Support for Minors with Type 1 Diabetes" program, 5 girls, boys and adolescents were supported. The different medical specialists and Medtronic were thanked in an outstanding way for their support in the scholarships for the minors, the amount of the program is $1,090,682.2 of which only the amount of $105,000.00 MN had to be covered
Within the "Changing Paradigms" program, 177 girls, boys and adolescents from the Casas Hogares Brindemos Alegría Para Vivir, El Porvenir del Estudiante, Unidas Por Amor, Unidos Por Amor, Palabra de Vida y Cuidar Corazón were benefited; who are thanked for their collaboration and opening the doors.
In addition, the new challenge "Breaking Paradigms" was started, implementing said program in the Sisu and Regalo de Vida Addiction Centers; supporting 56 people with this.
That is why we proudly share the work carried out by Fundación Caudillos, with the commitment to continue advancing hand in hand and growing together for a more prosperous Chihuahua. More information through the official social networks of Fundación Caudillos, as well as by calling 614 334 19 47.
---