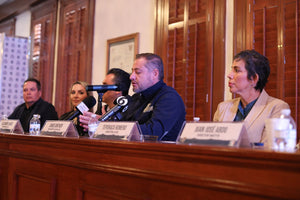 Caudillos de Chihuahua will participate in the LFA Owners Summit
-- Ciudad Juárez will be the headquarters of this meeting of the different directorates.
The leadership of the Caudillos de Chihuahua will be present at the next American Football League (LFA) Owners Summit, which will take place on August 25 and 26 in Ciudad Juárez, Chihuahua.
Jorge Ginther, President of Caudillos de Chihuahua, will hold several meetings and conferences for two days with the other leaders of the rest of the teams. Within the agenda of this LFA Owners Summit, there are different topics such as franchise administration, sports agreements, regulations, team structures and upcoming facility reviews.
In addition, the franchise owners, together with the league authorities, will make the final adjustments prior to the next season, such as the calendar, the competition system and the salary cap on the players.
The results and agreements in this next LFA Owners' Summit will be announced in the following days through the official communication channels of the LFA, as well as in each of the organizations.
---