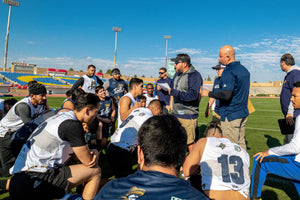 Massive and successful tryout of the Caudillos of Chihuahua
This Saturday morning, the University Olympic Stadium became the official venue for the viewings of the Caudillos de Chihuahua professional American football team, where 108 players came looking for a place for the next tournament.
This tryout was supervised by Caudillos head coach Federico Landeros Jr., and it was through his coaching staff who carried out the program of routines and execution of tests in order to evaluate the physical conditions of the attendees.
Among the tests applied were the vertical jump, the 40-yard run, 1v1, 2v2 and 7v7 confrontations, as well as clinical analysis, in the same way the attitude on the field, skill and execution of offensive plays were evaluated. and defensive.
Regarding this first tryout, coach Landeros stated; "It is always nice to see the response of the boys who are interested in being part of Caudillos, we had the assistance of a lot of talent, people with many qualities and that allows us to follow up, we want to have the best on the team and they make an effort for being one, so we are happy for this number of attendees."
For his part, Alejandro Jaimes, commissioner of the LFA, was present and also commented; "We are pleasantly surprised with the structure and organization of Caudillos, we have no doubt that we have made a good decision by joining them to the League, they have a great businessman, they have the support of sponsors, the media and the fans, we very much see "I like the work that is being done in Caudillos."
In the same way, the Caudillos team management called on the fans to be part of a coexistence that included a series of dynamics with some of the sponsors, such as the Masaryk Restaurant and the Christus Muguerza Hospital.
Likewise, the Caudillos Foundation was present at the event and noted that, in the coming days, the new social actions that will be undertaken to benefit the most needy community in the city will be announced, as well as the strategic alliances to provide greater coverage of aid.
Likewise, the game calendar for the 2023 Season of the American Football League (LFA) will be announced through Caudillos' official social networks, as well as the sale of Bonds, general access, a program of activities and shows for fans. during the games, as well as the hiring of players.
---