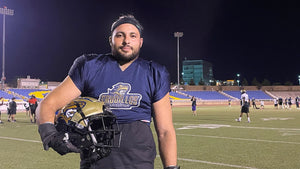 Andrés Espinoza arrives at Caudillos de Chihuahua
- 25-year-old linebacker, born in Mexico City
The Caudillos de Chihuahua team reinforces its squad within the 2022 season of the Mexican American Football League FAM-YOX. Andrés Espinoza becomes a new player for the Chihuahua team.
Andrés Edmundo Espinoza Gutiérrez, 25 years old, has among his history as a player, participation with the Mexico U-19 National Team in the 2014 Kuwait International Championship, he was part of the "Team CONADEIP" in the Bowl of Stars in the years 2017, 2018, 2019. In addition, from the CONADEIP National Championship in 2017, 2018, 2019 and in the National Team, in the Harbin Championship, China.
Considered in the "top 3" of the best linebackers in the country and chosen for the ideal selection in the years 2014, 2016, 2017, 2018, 2019, 2020. Andrés arrives at Caudillos with the sign of important reinforcement to contribute to the development of the team within the FAM.
"I feel happy, the players and coaches have received me in a great way. The team is intense, they work very hard for the games and I feel happy about that. I come to give myself and contribute everything on my part to achieve victories week after week for the Caudillos," declared Andrés Espinoza, in his first training session with the Chihuahua team.
Caudillos will play their next match this Saturday, May 21, at the Estadio Universitario de Chihuahua, receiving the Rojos de México City at 7:00 p.m. Tickets available at www.topticket.mx and stadium box offices.
---