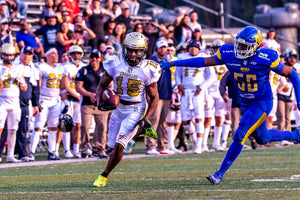 Caudillos de Chihuahua leads the statistics in the LFA
Caudillos maintains prominence in national American football
With perfect pace so far in the 2023 season of the American Football League, the Caudillos de Chihuahua team monopolizes the LFA statistics as the offensive and defensive leader.
After 5 weeks of activity in the national competition, Caudillos remains undefeated with five wins in the regular season, a record that places him as the absolute leader in the general table, and leaders in the best offensive and defensive boxes.
A total of 186 points in favor in five games places Chihuahua as the best offense in the championship. In addition, it remains the best defense, allowing only 83 points against in the same number of games.
Caudillos de Chihuahua enters the history books of the LFA by being the team with the most points achieved in the first 5 weeks of activity, surpassing the record that belonged to the Mayas in 2017, where they achieved 176 in the first five weeks of action.
Within the individual statistics, Caudillos is among the most important, as is the case of the highest number of combined yards, where Juwan Manigo leads with 1,116 yards, being the only player to exceed +1000 yards so far in the tournament.
Jeremy Johnson, Caudillos quarterback, is in the top 3 of the QBs with the most yards, adding 1,157. Likewise, Justin Lewis, runner from Chihuahua, has 329 yards on the ground, being the third best runner in the league, as well as Emmanuel Harris, receiver from Caudillos, who is in second position in his category with 483 yards through the air. .
Caudillos de Chihuahua will seek to maintain the leadership of the LFA, next April 15 when it receives the Dinos de Saltillo team (1-4) at the Estadio Olimpico Universitario, at 7:00 p.m. Tickets available at www.topticket.mx , as well as at the stadium box office.
---