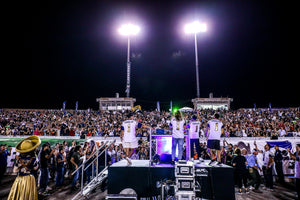 "The Caudillos house will be quite a spectacle"; Jorge Ginther
--Musical shows, pyrotechnics, artists and many surprises at the Caudillos matches
The leadership of the Caudillos de Chihuahua team confirmed that, during the 2023 season of the American Football League (LFA), the Chihuahua team's home games will once again be a complete experience for Chihuahuan families.
Jorge Ginther, president of Caudillos de Chihuahua, invites the Chihuahua fans to follow the team closely, since, as is customary, Caudillos will offer the greatest sporting and entertainment spectacle in the city of Chihuahua.
"In the coming days we will be confirming through our social networks the surprises, artists, halftime shows and dynamics that will accompany us in our home debut on March 11 against Galgos de Tijuana, as well as in all the home games that we will have in 2023," said Jorge Ginther.
Caudillos de Chihuahua will have five home games in the regular season:
March 11 | Caudillos vs Galgos de Tijuana
March 18 | Caudillos vs Reds CDMX
April 15 | Caudillos vs Dinos of Saltillo
April 29 | Caudillos vs Black Roosters of Querétaro
May 13 | Caudillos vs Chiefs of Ciudad Juárez
With the Caudillo Subscription you can obtain a reserved and preferential place for the entire regular home season, as well as receive the welcome kit that includes: commemorative glass, lanyard and card with promotions and discounts from official sponsors. The cost of the Caudillo Subscription is $1,200 pesos.
Subscriptions can be purchased through the website topticket.mx or through the official promoters who can be consulted through cell phone 614-528-34-09, 614-184-4352 or through email; sales@caudillos.mx.
---