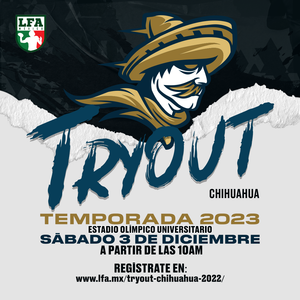 Caudillos de Chihuahua invites to Tryout for the 2023 season
Physical tests will be carried out at the University Olympic Stadium
The Caudillos de Chihuahua team officially announced the first Tryout heading into the 2023 season of the American Football League (LFA).
The tests will be held on Saturday, December 3 at exactly 10:00 in the morning at the University Olympic Stadium in an open format for athletes.
The requirements to attend the Tryouts are:
Age: Minimum 18 years.
Minimum level played: Schoolboy.
Not have any active injury that prevents you from performing tryouts.
Official Identification
Civil liability form completed and signed by the participant
If you have a chronic condition, present a medical certificate proving that you can perform physical activity.
Sports tennis shoes, cleats and shorts.
Registration to obtain a place in the Tryouts must be done through a form at the following link: https://lfa.mx/tryout-chihuahua-2022/ .
More information through the official social networks of Caudillos de Chihuahua.
---