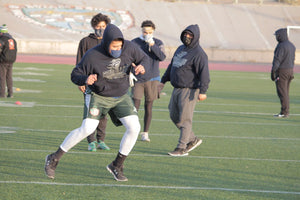 CAUDILLOS PRO FOOTBALL START INTERNSHIP AT THE EOU
The coordinator of sports activities welcomed them and reiterated the support of the UACH through the CODAFyR
Chihuahua, Chih.- With the assistance of 42 local players, Caudillos Pro Football Chihuahua began its practice phase prior to the preseason, ahead of the 2022 season of the Mexican American Football League FAM-YOX, with the Estadio Olimpico Universitario as scenery.
Oscar Erives, coordinator of sports activities at the UACH, was present during the practice, to express the unconditional support of the UACH, so that the EOU continues to be the home of Caudillos in this 2022 season.
Field tests and physical conditioning were the constant in practices, which ended a long drought, after the cancellation of the 2021 campaign was announced in April of last year. 
"We seek to start early with the preparation of the players, so that they arrive in optimal conditions for the preseason, where they will be fighting to stay on the team," commented Mauricio Balderrama, head coach of Caudillos. 
Caudillos Pro Football opens the 2022 campaign on April 29, when it travels to the home of Parrilleros de Monterrey.
---