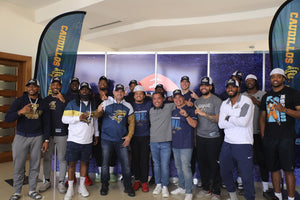 Caudillos de Chihuahua signs foreign players
Heading into the 2022 season of the Mexican American Football League FAM-YOX, the Caudillos de Chihuahua team signed contracts for the foreign players who will defend the shirt of the Chihuahua team.
In the presence of players, coaching staff and the team president, Jorge Ginther, the signing of the contracts of the players took place: Joshua Trey Crockett, Anthony Jawan, Breadaun Damonte, Maurice Woodard, Jamari Osborne, Jarred Evans, Joshua Donaldson, Darius Hicks, Brandon Jackson, Justin Hobbs, Jordan Malick, Adrian Portlock JR, Joseph Griffin, Brett Cox and Justice Bishop.
"The players are very committed, they earned their place with their work in training, a lot of commitment and dedication. "We are going to continue demanding them to reach the 2022 season in the best way and achieve the championship for the Caudillos of Chihuahua." Said the Head Coach, Federico Landeros.
For his part, the team president, Jorge Ginther, shared a message with the players: "You know it wasn't easy, but here are the best, and the best of us are going to go for that ring. "That is going to be our only goal, but to get there, we need to play like a true family, that will make us achieve our goal." 
In the coming days, the Caudillos de Chihuahua team will sign the contract of the Chihuahuan and national players who will form the final roster of the capital team.
---