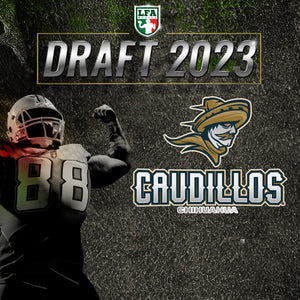 Caudillos de Chihuahua will be in the 2023 LFA Draft
--More than 80 players will seek to be chosen by the LFA professional teams
The Caudillos de Chihuahua team is ready to participate in the 2023 Draft of the American Football League (LFA) for the 2023 Season, as announced by the Caudillos Head Coach, Federico Landeros.
The Draft consists of choosing players who have completed their college/major league eligibility stage and are ready for the professional phase of American football.
The logistics of the Draft are divided into six rounds of selection, where each pick belongs to the order of the list of teams for the selection of players. The league assigns a time to each team to make the selection; in the LFA it is two minutes for all rounds. The order of the first round will be as follows:
Raptors (trade with Reds)
Greyhounds
Kings
Mexican
Raptors
tell us
Black Roosters
Foundries
Bosses
Leaders
The order of the teams is defined by the mark with which they finished the previous season, making the last place in the standings have the first pick and the champion be the last to choose. In this case, Ciudad Juárez and Chihuahua are added to the defined list.
The 2023 Draft will take place next Saturday, January 7, starting at 11:00 am, at the facilities of the "Total Play" Forum in Mexico City.
---