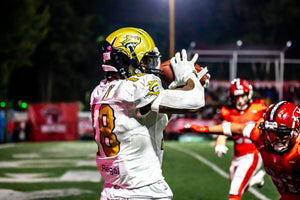 Caudillos de Chihuahua is the undefeated leader of the LFA
Caudillos do not know defeat in four weeks of action
Overall leader and only undefeated team in the American Football League (LFA), Caudillos de Chihuahua has four wins in four weeks of regular season action.
With a perfect pace in the current national American football campaign, the Chihuahua team remains at the top of the classification with two victories at home and two more on the road.
A total of 138 points scored for only 69 received gives a difference of +69 units, numbers corresponding to victories in 2023:
Chiefs of Ciudad Juárez 12-20 Chiefs of Chihuahua
Caudillos de Chihuahua 51-16 Galgos de Tijuana
Caudillos de Chihuahua 25-7 Reds CDMX
Mexicas Mexico City 34-42 Caudillos of Chihuahua
The general classification of the LFA is as follows:
Record Team Position
Chihuahua leaders 4-0
Mexico City Reds 3-1
Kings of Jalisco 3-1
Dinos de Saltillo 3-1
Founders of Monterrey 3-1
Tijuana Greyhounds 2-2
Valley of Mexico Raptors 1-3
Mexicans from Mexico City 1-3
Ciudad Juárez Chiefs 0-4
Black Roosters of Querétaro 0-4
For Week 5 of the LFA, Caudillos will visit the Kings of Jalisco at the "Fortaleza Azul" Stadium of the Tecnológico de Monterrey Campus Guadalaja, a match that will take place on Saturday, April 1 at exactly 5:00 p.m. I find that you can follow through the official social networks of Caudillos de Chihuahua, as well as in the "Casas Caudillos" of the city.
---