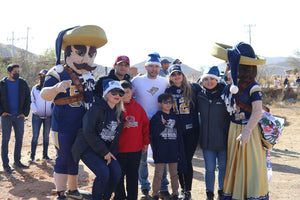 Caudillos Foundation delivers Christmas dinners to Chihuahuan families
- More than 200 families received Christmas dinners, toys and medical care.
The Caudillos de Chihuahua team, through the Caudillos Foundation, once again carried out the annual activity called "Christmas for All", where Christmas dinners, toys and medical check-ups were delivered to vulnerable neighborhoods in the City of Chihuahua.
The objective of this activity is to provide Chihuahuan families with economic difficulties with a Christmas package, which included dinner, board games, groceries, blankets, clothing and candy; with the purpose of brightening the dates and promoting family integration.
The result of "Christmas For All" by Fundación Caudillos in 2022 was: 200 families benefited, 200 dinners delivered, 200 blankets, 200 board games, 200 packages of potatoes, medical check-up for 200 families. Benefits were delivered by staff of the Caudillos Foundation and its president Evelyn Holguín, as well as staff, directors and players of Caudillos de Chihuahua, in addition to the presence of its directors Raúl Lugo and Jorge Ginther.
"We feel so happy and with great gratitude we can share that we exceeded the objective, we exceeded our goal of collecting more than 200 dinners for families who need it at this time, thank you very much to all the people, families, companies and society that helped by donating the dinners, toys and other gifts and support, in addition to the great heart that is put year after year into "Christmas For All". Commented the president of the Caudillos Foundation, Evelyn Holguín.
For his part, Jorge Ginther, president of the Caudillos de Chihuahua team, thanked all the staff who helped deliver Christmas dinners, who also lived with the families' children, as well as helping the elderly bring support to their homes.
It is worth mentioning that Fundación Caudillos continues with its programs and actions to help society, associations and organizations that have the objective of providing support and help to the most vulnerable people in Chihuahua society. For more information on the actions of the Caudillos Foundation, through the official social networks.
---