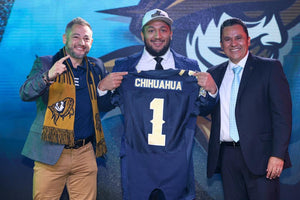 Caudillos de Chihuahua chooses three players in the 2023 LFA Draft
--First participation of Caudillos in a player draft
As part of the 2023 Draft of the American Football League (LFA), the Caudillos de Chihuahua team validated the selection of three players from the ONEFA Major League and a trade for the 2023 Season.
Within the first round of selection, Caudillos chose the player Iván Hernández Gleason, a defensive lineman who defended the colors of Pumas Acatlán, becoming the first player in history chosen by Chihuahua in an American football draft.
In the second round, Caudillos traded his pick with the Mexico City Reds team in exchange for running back Justin Lewis.
While, for the third round and third pick of Caudillos, the team chose the player Axel Eduardo Aguirre Serna, an offensive lineman from the Águilas de Universidad Autónoma de Chihuahua and who will now be part of Caudillos de Chihuahua.
In the fourth round of the Draft, Caudillos opted for the player Alejandro Baliño as a linebacker who played his last year in the Major League with the Águilas Blancas of the National Polytechnic Institute.
In this way, Caudillos de Chihuahua closed its first participation in a Draft as part of the LFA, heading for the 2023 season that will begin in the month of March.
Players chosen by Caudillos de Chihuahua in the 2023 LFA Draft:
Ivan Hernandez Gleason
Position: Defensive Lineman
Age: 25 years
Weight: 90kg
Height: 1.80 cm
Team U: Pumas Acatlán
Justin Lewis (trade)
Position: Running back
Weight:88kg
Height: 1.81 cm
Trade: Rojos CDMX
Axel Eduardo Aguirre Serna
Position: Offensive Lineman
Age: 25 years
Weight: 125kg
Height: 1.84 cm
U Team: UACH Eagles
Alejandro Baliño Damián
Position: Linebacker
Age: 25 years
Weight: 89kg
Height: 1.75 cm
Team U: Águilas Blancas IPN
---