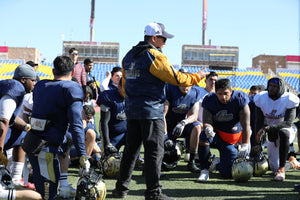 The only objective for Caudillos is the championship: Federico Landeros
--The Chihuahua team refines details for the 2023 season
 The Caudillos de Chihuahua team is fine-tuning details in the daily training work, heading towards the 2023 season of the American Football League (LFA).
With the squad practically complete, the coaching staff led by Head Coach Federico Landeros, work on the field of the UACH University Olympic, all the strategies that Caudillos will implement to give his fans the 2023 championship.
For their part, the players who have recently arrived in the Caudillos ranks quickly adapt to the approach of Landeros and his team; "The players look very good, very disciplined, very good atmosphere. The kids work their hearts out on the field and if you see, the atmosphere is excellent. So, we're doing well, I want to keep the team united, because the only objective is the championship." Federico Landeros declared.
The team is working defensively and offensively, this last area being the one that coach Landeros assures, Caudillos will give something to talk about by seeking to be a leading offensive team and achieve favorable results. "Offensively, we are adapting some modifications. Getting the team together and looking at the week to work on it day by day and achieve the expected objectives in attack." Landeros assured.
Caudillos de Chihuahua continues with training work and coupling of plays, preparing for its debut in the LFA next March at the home of the Ciudad Juárez Chiefs.
---