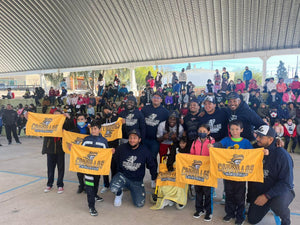 Caudillos coexist with students from Margarita Maza Elementary School in Juárez
--Share with girls, boys and teaching staff a morning of successful experiences through the practice of sport. 
The Caudillos de Chihuahua professional American football team visited the "Margarita Maza de Juárez" Primary School where players shared their experiences that led them to become professionals.
It was on the school's civic esplanade where the members of Caudillos had the opportunity to chat with the students, and later carry out a series of activities and dynamics where gifts were given to the participants.
These actions will continue by the Club and the Caudillos Foundation with the aim of maintaining a close relationship between the team and the community, strengthening the sense of roots that the organization seeks in Chihuahua.
Likewise, this Saturday, February 4, players, coaching staff, staff and personnel of Caudillos will carry out massive activations in different cruises in the city starting at 12 noon where they will give motorists promotional items from the team, stickers and gifts heading to the American Football League (LFA) season that starts this March 5.
---