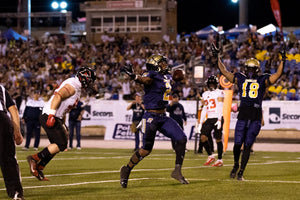 Strong triumph of Caudillos de Chihuahua over Galgos de Tijuana
--Caudillos beat Galgos 51-16 at the Olympic Stadium
With an attendance of more than 10,000 fans, Caudillos de Chihuahua debuted at home, in the American Football League (LFA), triumphing resoundingly 51-16 against the Galgos de Tijuana.
The first score of the game would come with the combination of Jeremy Johnson and Marcus Hardy with a 22-yard pass to score the first 6 points for Caudillos. The extra point kick would be blocked and returned by the Greyhounds to score 2 points on their account.
Caudillos would extend the advantage by making a "picksix" by Alejandro Baliño and returning an interception from 25 yards, making the score 13-2 after making the good extra point.
Jeremy Johnson would connect his second touchdown pass with Markcus Hardy, this one a 9-yarder making the numbers 20-2 for Chihuahua.
Two big plays on the ground would come with Justin Lewis, who, advancing five and ten yards respectively, would reach the diagonals to make the score 33-2 for Caudillos.
During halftime, Caudillos de Chihuahua offered the show "The Michael Jackson Experience" with more than 150 people on stage and a pyrotechnics show.
Already in the second half, Juwan Manigo would increase the advantage with a 30-yard reception, and again the extra point kick would be blocked and returned, the score 39-4 for the Chihuahua team.
Jeremy Johnson's show would continue with an 80-yard "bomb" to connect with Emmanuel Harris and make the numbers 45-4 against Greyhounds.
For its part, Tijuana would cut the lead with a one-yard run, to make the score 45-10. Caudillos' reaction would come from Fernando Mejía, scoring six more points on the ground, with ten minutes left in the game, the score 51-10.
Tijuana tried to get closer in the final minutes with a 25-yard pass to the end zone that Carlos Santillano completed, closing the final score at 51-16 for Chihuahua.
With this victory, Caudillos de Chihuahua has a 2-0 record, and will return to action next Saturday, March 18, when they host the CDXM Reds at the Olympic Stadium at 7:00 p.m. Tickets on sale at topticket.mx and the Stadium box office.
---