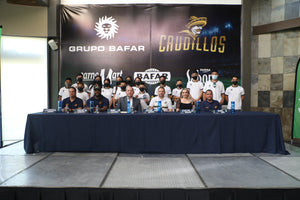 We trust and promote the social-sports project that Caudillos de Chihuahua represents"; Bafar Group.
Through a press conference at the Grupo Bafar facilities, it was announced this Wednesday that the social project that Caudillos de Chihuahua represents will be promoted and will be through the CarneMart brand as the group's official sponsor for the Chihuahua team in the 2022 season. of the Mexican American Football League FAM-YOX.
In an event that was attended by the player Trent Richardson, the Head Coach, Federico Landeros, the director of Caudillos, Raúl Lugo, the president of the Caudillos Foundation, Evelyn Holguín, the president of Caudillos, Jorge Ginther and as host, the director Grupo Bafar's retail marketing salesperson, Raúl Gallardo, the work agreement between CarneMart and Caudillos de Chihuahua was announced.
Raúl Gallardo from Grupo Bafar, encouraged the children present from the Bafar Foundation to continue with their dreams and achieve their life projects, taking the example of the player Trent Richardson, who, in turn, shared his life experience and growth inside and outside of the fields with the children and young people present.
For his part, Jorge Ginther, president of Caudillos de Chihuahua, mentioned; "We are very grateful, but above all committed to Grupo Bafar and the CarneMart brand, for trusting in the project, for supporting Chihuahuan sports and athletes and wanting to make history together with us. "We are going to give everything on our part to achieve the Caudillos championship and celebrate it with our Chihuahua fans and sponsors." 
Caudillos de Chihuahua will debut in the 2022 FAM-YOX season on April 29 at the home of the Parrilleros de Monterrey, and then play their first home game on May 7 when Caudillos receives Pioneros de Querétaro.
---