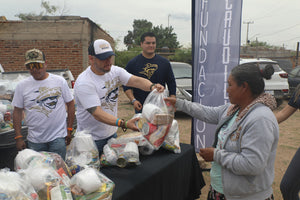 Caudillos and Caudillos Foundation benefit neighborhoods in the south of the city
As part of the joint work carried out by the Caudillos de Chihuahua team and the Caudillos Foundation in favor of the Chihuahua community, this weekend a delivery of food supplies was carried out in the Ladrilleras Sur neighborhood.
This support delivery of food products, hygiene products, and clothing and footwear items was led by Jorge Ginther, leader of the team, and Evelyn Holguín, president of the Caudillos Foundation. Both were happy and enthusiastic about supporting the more than 250 beneficiaries.
"I feel very happy to come to this part of the city and deliver help that not only we have collected. This is the result of what, day after day, the people who help Fundación Caudillos. Right now we had the opportunity to deliver groceries of food, a lot of clothing, footwear and household items, everything is essential for these families. The work of the Foundation is precisely this, providing a hand and this fills us with pride, but also with commitment," said Evelyn Holguín, president of the Caudillos Foundation.
For Jorge Ginther, president of the team, these types of actions strengthen the bond between the organization and the community. "Caudillos is not only present on the field, but also in situations like this. If the people of Chihuahua support and encourage the team, we are indebted to absolutely everyone in the city. I like that Caudillos reaches every door and helps. This It is everyone's job," concluded the manager.
In the coming days, the Caudillos Foundation will continue with the dissemination of events for the community, while the Caudillos de Chihuahua team is already preparing for its duel against Fundidores de Monterrey, in the semifinals of the American Football League.
---