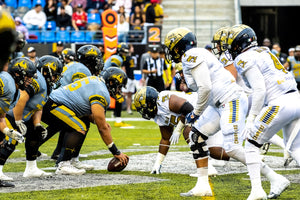 Caudillos de Chihuahua already has a rival in the run-up to the Mexico Bowl
After the wild card round in the American Football League (LFA) that took place last weekend, the Caudillos de Chihuahua already have a rival for the semifinals of the 2023 season. It will be the Fundidores de Monterrey team with the one who will face each other in the dispute for the ticket to the Mexico Bowl, next Saturday, May 27 at the Olympic University Stadium at 7:00 p.m.
The Monterrey team reached the semifinal round after beating Mexico City Reds last Sunday, with a score of 17-10. Fundidores will arrive in the capital of the large state, with a positive record of 4 wins in a row. The last time those from Nuevo León suffered defeat, it was precisely against Caudillos de Chihuahua on April 23, in week 7 of the LFA.
Fundidores closed the regular season in fifth position with a record of 6 wins and 4 losses. It was the second best offense, registering 297 points for and 237 against, adding a difference of 60 points, with 60% effectiveness.
For its part, the Chihuahua team finished the regular phase at the top of the general classification. With the historic undefeated record of 10 victories, the capital's team had the best offensive and defensive performance of the campaign. 362 in favor, 188 against, resulting in a difference of 174, figures that gave 100% effectiveness.
It will be the first time that the Fundidores de Monterrey franchise visits the Estadio Olimpico Universitario. The Caudillos of Chihuahua are already preparing for this crucial duel that puts them just a short distance away from the long-awaited LFA championship.
Tickets for the match between Caudillos de Chihuahua vs Fundidores de Monterrey are now available on the website www.toptickte.mx , as well as at the Olympic University Stadium box office.
---