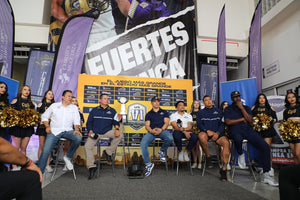 Caudillos de Chihuahua goes for the LFA Mexico Bowl
Media Day is held within the framework of the Mexico VI Bowl
After several months of activity, the 2023 season of the American Football League (LFA) will come to an end with the sixth edition of the Mexico Bowl.
The duel between the Caudillos of Chihuahua and the Dinos of Saltillo will define the next monarch of the circuit. This match is scheduled for next Saturday, June 10 at 7:00 p.m. at the Estadio Olimpico Universitario.
The Chihuahua team comes into this crucial match with the label of favorite since in addition to qualifying in first place, it remained undefeated throughout the campaign with 10 wins in a row and in the playoff stage against Fundidors de Monterrey.
The team from Coahuila will arrive in the capital of the large state, after beating the Kings of Jalisco in the semifinal round. Dinos recorded 7 wins and 3 losses in the regular season.
This will be the first participation of Caudillos de Chihuahua in the Mexico Bowl, since precisely in this 2023 season, the Chihuahuas debuted in the LFA. While Dinos de Saltillo already competed for the title in the second edition of the Mexico Bowl in 2017, where they succumbed to Mayas de Mexico City.
In addition to the meeting between Caudillos and Dinos, the off-field show will be performed by Panteón Rococó with its halftime show and closing concert.
Tickets for the Mexico Bowl are available on the website www.topticket.mx, as well as at the Stadium box office from 10:00 am to 6:00 pm, every day. The ticket is valid for the match between Caudillos and Dinos, as well as for the presentation of Panteón Rococó with the valid 3x2 promotion.
---