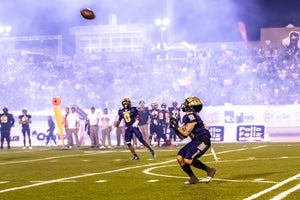 Caudillos de Chihuahua seeks to remain undefeated against Dinos de Saltillo
Saturday, April 15 at 7:00 p.m. at the University Olympic Stadium
After a week of recess, the activity of the American Football League (LFA) returns to all fronts and this Saturday, April 15, the Caudillos de Chihuahua will receive a visit from the Dinos de Saltillo at the Estadio Olimpico Universitario at at 7:00 p.m. in a duel corresponding to Week 6 of the circuit.
For the Chihuahua team, the appointment against Dinos will be crucial in the aspirations of maintaining the perfect record in the current 2023 season. Caudillos is the only team that does not know defeat in the entire LFA with a record of 5 wins in a row, situation which keeps it in first position in the league. For their part, those from Coahuila will arrive in the capital of the large state, with the mission of snatching that label from the locals. The Dinos are installed in third position with 4 wins and one loss.
Iván Hernández Gleason, Caudillos defensive lineman, points out the importance of the match against Dinos. "I know they have good players, good runners, but we are better and in the end what we have to do is be in our role. Let them fall into our game, we will not be worried about what they are going to do, let them worry about us. And nothing, stay focused on our work," said the player from the capital team.
In addition, the defender assures that Caudillos is in a key part of the campaign. "We know that what is important, what we really want, is just beginning. There are 7 weeks left, we are focused on the fact that there are 7, because it is the week of the championship, so we have to arrive healthy in this part of the season," said Hernández Gleason.
On this return of the Caudillos of Chihuahua home, the team's management invites you to live the "Cadillo Experience" again. At 10:00 a.m. the tochito matches will begin, followed by the traditional and attractive "Tailgate" outside the building where the fans live together and have their pre-match meal. The halftime show will be a tribute to Metallica by great local artists and a pyrotechnic show.
Tickets for this match are available at www.topticket.mx, as well as at the Olympic University Stadium box office.
---