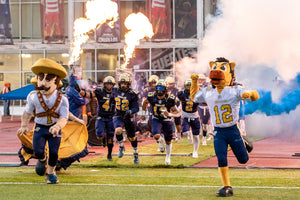 Chihuahua leaders seek to remain undefeated against Mexicas
The Chihuahua team is positioned as a leader in the LFA
The Caudillos of Chihuahua will seek to remain undefeated and lead the American Football League (LFA), when this Saturday, March 25, at 8:00 p.m., they face the Mexicas at the MCA Jaime Labastida Stadium, in a duel corresponding to Week 4 of the regular season.
After an important victory over the Reds, the Chihuahua team is positioned at the top of the general classification, with a record of 3 wins in a row without knowing defeat.
For its part, Mexicas will reach this commitment after falling to Reyes de Jalisco. Those from Mexico City find themselves with numbers of one victory and two losses, located in seventh overall position.
For Caudillos offensive lineman, Diego Bedolla, the game against Mexicas will be crucial, "The truth is that we are working every day. Individually, in the first teams, we are focused on having communication throughout the line and in the other positions. It's been several weeks, we've only been there for three and we're preparing very intensely for each game," Bedolla concluded.
Caudillos de Chihuahua will face one of their two consecutive outings, where after visiting the country's capital, in week 5 they will travel to Jalisco to face the Kings, who this week will be having action against Fundidores de Monterrey in royal lands.
In this way, the Caudillos de Chihuahua continue the 2023 LFA season in search of the championship. All Chihuahua fans are invited to follow the actions of the visiting match, in the "Casas Caudillos", as well as follow the broadcast on the team's official social networks.
---