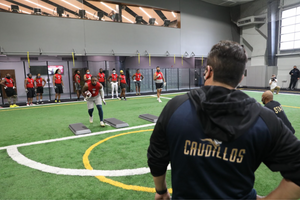 Caudillos Chihuahua present at the first international tryout FAM 2021
The Mexican American Football League (FAM) in conjunction with TR3 Alliance will carry out international tryouts in the city of Dallas Texas on July 2, 3 and 4, 2021. This will be the first of four tryouts planned for the following months . At the event there will be representatives from all FAM league teams, as well as international players looking for an opportunity to be part of a franchise.
Caudillos Chihuahua, remaining at the forefront on and off the field, will be present at tryouts seeking to swell their ranks with top-level international reinforcements, who can be representatives of the team on the field and in the community.
During the three-day event, coaches and players will have the opportunity to interact with each other, allowing potential players to learn more about FAM and the advantages that playing for a franchise can offer. For their part, teams take advantage of this interaction to determine which players fit best in their organization and will help create a competitive team.
Giving international players the opportunity increases the competitiveness of the league and raises the level of play of each team.
---